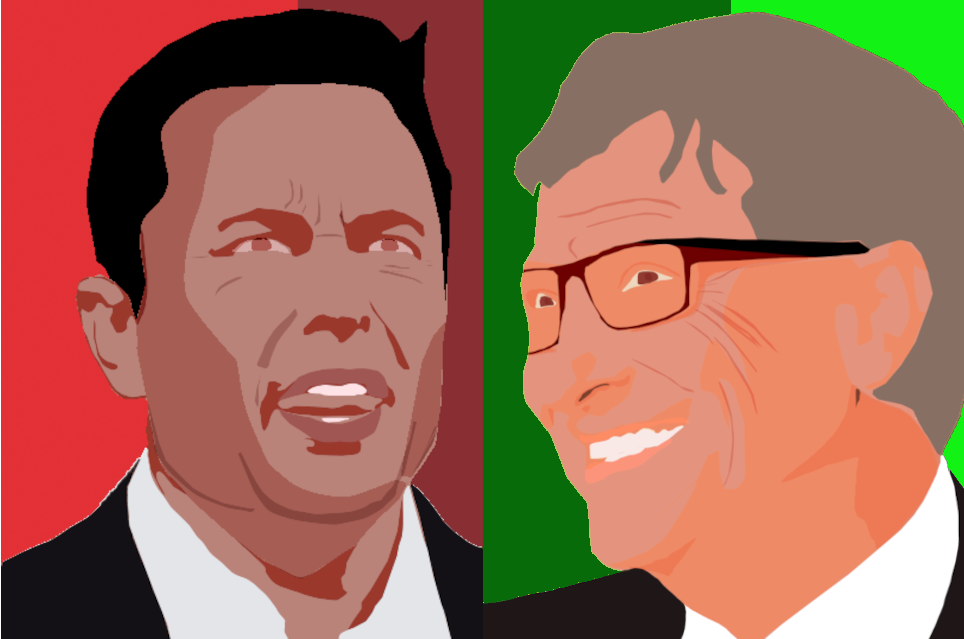 Musk. Gates. Are They Both Wrong?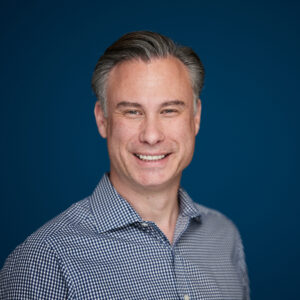 Robert Wingrove
Principal Consultant / Founder
"My conversations with Gates have been underwhelming tbh" – Elon Musk
At the end of August, Bill Gates pressed 'post' on his latest GatesNotes blog article. In the post on travelling and climate change he speaks about the progress of EVs over the last decade and how they are a realistic option for car owners today but states "(batteries will) probably never be a practical solution for things like 18-wheelers…". Last weekend Twitter user @richardreinariv asked Elon Musk what his opinion was about this declaration, and in typical Elon style he quips a blunt dismissal, "He (Gates) has no clue". Does he have a point, or has he no clue?
Musk has even been compared to Gates, and they sport a 'taskmaster' moniker, use their Internet influence to manipulate, and have been accused by environmental as being 'green' hypocrites. This isn't the first time that Musk and Gates have crossed paths. Earlier in the year, Musk called the shelter-in-place orders during COVID-19 are "fascist" and Gates suggest that Musk should stick to running Tesla and let the experts handle it. Back in February, in response to Gates finally buying an EV, Musk tweeted, "My conversations with Gates have been underwhelming tbh". Unsurprisingly, Gates bought a Porsche to add to his collection.
"(batteries will) probably never be a practical solution for things like 18-wheelers…" – Bill Gates
Deeper in the article, he states, "… batteries are big and heavy. The more weight you're trying to move, the more batteries you need to power the vehicle. But the more batteries you use, the more weight you add—and the more power you need." Even with breakthrough battery technology, this weight constraint limits the cargo that an EV truck can haul, even with Telsa's smart low drag approach. Gates then goes on to talk about biofuels but doesn't mention they have diverted food from table and increased clear-cutting and have a tank-to-wheel carbon footprint arguably worse than diesel from crude oil. However, he fails to mention that both he and the Bill and Melinda Gates Society are heavily invested in the perpetuation of oil and gas and counter t achieving carbon neutrality by 2050.
In the graph below, the BEV semi problem is apparent. The target cargo weight capacity of a class-8 semi-truck is 48,000-lbs, shown as the green line. The best battery technology and aerodynamics (Tesla Semi) that the maximum range of a class-8 truck is 200-miles. Beyond the 200-miles range, the cargo weight is taken to carry more batteries. Short haul-trucks travel up to 600-miles a day where long-haul trucks designed to travel 600 to 1,200-miles a day depending on if they are using a driver team.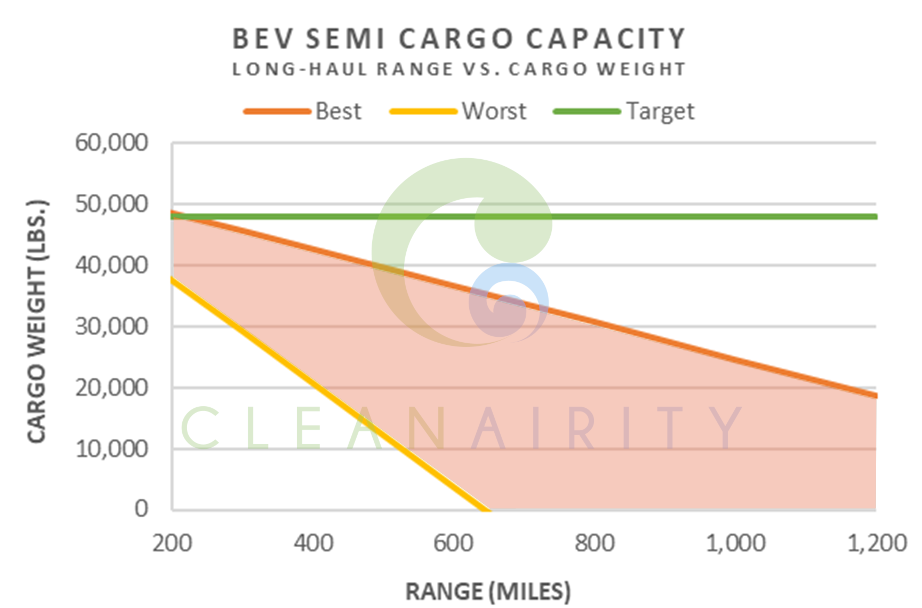 This brings us back to the question, does Bill Gates have a clue? I think he does have a clue (or at least his advisers do) about batteries and long-haul trucks. Gates seems to enjoy his post-Microsoft influencing, but sparks of change are idealistic and unwavering. If Gates wants to be a climate change influencer instead of feather-bedding his bottom line, he should get a clue and stop investing in the perpetuation of fossil fuels. Conversely, Musk's dismissal is likely motivated by the need to protect Tesla's imminent Semi launch—which is running the company. With many of Tesla Semi pre-orders being short-haul and class-7 truck operators, Tesla's planned battery semi should work, but will depend on how long they take to charge.
Do you think Gates has a clue?
© 2020 CleanAirty, A Division of Finding North Ltd.